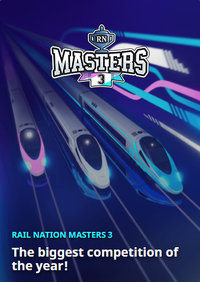 The Masters gamemode is a yearly event, you can find anouncements for each year here:
It is a six-week competition for victory with the largest cities, most effective associations and top scores in the individual ranking. In Rail Nation Masters, the best and most successful players from around the world go head to head.
Take part in the biggest competition of the year. Don't miss out when the best players from around the world compete head to head in a new tournament system. Earn unique achievements, win valuable prizes, and unlock exclusive clothing items. Or challenge your friends to a round of "Rail Nation Clash!".